ADC 2019  |  96th Atlantic Dermatological Conference
PRODUCT THEATERS*
Given by Regeneron and Sanofi Genzyme, Ortho-Dermatologics, Celgene, Janssen, AbbVie, and Lilly
*these are NON-CME accredited
Friday, May 3, 2019 | 8:00 am  – 8:45 am
Friday, May 3, 2019 | 10:45 am  – 11:30 am
Friday, May 3, 2018 | 11:45 am  – 12:45 pm
Friday, May 3, 2018 | 7:00 pm  – 7:45 pm
Saturday, May 4, 2019 | 7:00 am - 7:45 am
Sunday, May 5, 2019 | 7:00 am - 7:45 am
---
LIVE PATIENT INJECTION SESSION
Friday, May 3, 2019 | 9:00 am – 10:30 am
This combined didactic/hand-on session in dermal fillers will cover foundation principles eg. facial anatomy, pathophysiology of aging, biologic properties of products being used, basic indications and injection techniques, complications, prevention and management. Proper consultation process, pain management, selection criteria of filling agents, establishing realistic patient expectations, and patient education to ensure a positive patient outcome will also be covered. Faculty will share their surface anatomy mapping, choice of filler and delivery method, injection technique and daily practice pearls. The demonstration of applied anatomy, product management and injection techniques will be in the form of hands-on training with live patients. A full variety of products available on the market will be discussed.
---
WELCOME RECEPTION
Friday, May 3, 2019 | 5:30 pm – 7:00 pm
Grand Hyatt New York
Join us as we thank our Exhibitors and Sponsors for supporting ADC 2019!
---
LIVE PATIENT VIEWING
Saturday, May 4, 2019 | 8:00 am – 11:00 am
Grand Hyatt New York
ADC's live patient viewing session and discussion is always a conference highlight. During this session, patients with exceptional diagnostic or therapeutic challenges are seen and examined by conference attendees. Cases presented also feature rare skin disorders, cutaneous manifestations of systemic disease and novel treatments.
The afternoon patient viewing discussion \begins at 1:00 pm and will include a review and analysis of the morning cases moderated by a panel of expert dermatologists and dermatopathologists.
---
KEYNOTE PRESENTER
Saturday, May 4, 2019 | 11:30 am – 1:00 pm
ADC 2019's Keynote is baseball H
all of Famer, Joe Torre. Joe is Major League Baseball's Chief Baseball Officer, overseeing areas that include Major League Operations, On-Field Operations, On-Field Discipline and Umpiring on behalf of Commissioner Robert D. Manfred, Jr. Since 2011, Torre has been the Office of the Commissioner's primary liaison to the general managers and field managers of the 30 Major League Clubs and the Major League Umpires regarding all on-field matters.
Torre led Major League teams as a manager across 29 seasons, ranking fifth all-time in managerial wins with 2,326.  Torre spent 12 seasons as manager of the New York Yankees (1996-2007), which included 12 Postseason berths, six World Series appearances and four World Championships (1996, 1998-2000).  Torre made his managerial debut with the New York Mets on May 31, 1977, becoming the first player-manager in the Majors since 1959.  He managed the Mets until 1981, followed by the Atlanta Braves from 1982-84 and the St. Louis Cardinals from 1990-95.  In 2010, Torre concluded his managerial career with the Los Angeles Dodgers, whom he led to the National League Championship Series in 2008 and 2009.
Torre is the Chairman of the Joe Torre Safe At Home Foundation, which he and his wife, Ali, launched in 2002.  Torre was born on July 18, 1940 in Brooklyn, New York.  Joe and Ali have a daughter, Andrea, and his three adult children are Michael, Cristina and Lauren.
---
THE INTREPID MUSEUM RECEPTION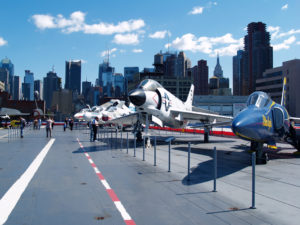 Saturday, May 4, 2019 | 7:00 pm – 10:00 pm
Intrepid Sea, Air and Space Museum
Pier 86, W 46th St, New York, NY 10036
Enjoy cocktails and hor d'ouevres while experiencing
exclusive access to the famous Intrepid Museum.
Cost:  $75  |  $25  (discounted fee for Residents/Fellow/Students/Children)