Online registration is now closed, but you are welcome to join us in Toronto and register on-site!
Registration desk opens May 5, 2017 at 8:00am in the Metropolitan Ballroom Foyer, Conference Centre (Second Level)
The ADC Registration Brochure is now available.
REGISTRATION FEES
Online registration system accepts Visa and MasterCard payments only.
Charges will show up on your credit card statement from Simply Eventful Management Inc. The statement will show the equivalent Canadian dollar fees in the home currency of the registrant.
For registration inquiries, please contact adc2017@simplyeventful.com
Fees below are subject to 13% Harmonized Sales Tax (HST) and are quoted in Canadian dollars.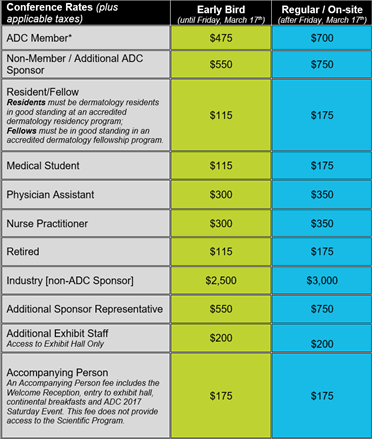 Registration fees listed include the Friday Welcome Reception, access to Scientific Sessions, Continental Breakfasts and the Saturday Keynote Lunch. Live Patient Viewing and Case Discussions will only be available to physicians and health care professionals.
* ADC Member Status - You must be a member in good standing at time of registration in one of the following societies:
Toronto Dermatological Society, 2017 Atlantic Derm Host Society
Brooklyn Dermatological Society
Buffalo-Rochester Dermatological Society
Dermatological Society of Greater New York
Dermatological Society of New Jersey
Long Island Dermatological Society
Manhattan/Metropolitan Dermatological Society
Maryland Dermatologic Society
Montreal Dermatological Society
New England Dermatological Society
New York Dermatological Society
Ottawa Dermatological Society
Philadelphia Dermatological Society
Washington D.C. Dermatological Society
Westchester (NY) Academy of Medicine, Section of Dermatology
Cancellation and Refund Policy
Registration fees, less $100.00 administration fee + applicable taxes, will be refunded upon written notice of cancellation received no later than Friday, April 7, 2017 to adc2017@simplyeventful.com.
Telephone cancellations will not be accepted.
There will be no provision of partial refunds on registration fees or refunds for activities or dinners not attended. Cancellation must be in writing by mail, email or fax to the 2017 ADC Conference Secretariat at:
Atlantic Derm Conference Secretariat
300 - 1245 West Broadway
Vancouver, BC V6H 1G7
Email:  adc2017@simplyeventful.com
Fax:  604.738.8697
---
We look forward to meeting you in Toronto!